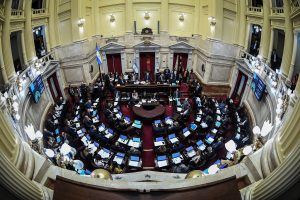 A new bill was proposed to the Honourable Senate of the Argentine Nation by the Senator Lucila Crexell, a member of the Neuquino Popular Movement.
On the 7th of October 2019, the senator entered the bill whose original text is available in Spanish on the website of the Argentine senate. It proposes the incorporation of ART.52 bis, which would guarantee artists and their descendants, the inalienable right to 5% of the price for each of the subsequent resales of their works. The redistribution of this right via collective management societies would be mandatory.
In the text, senator Crexell uses a marking example to illustrate the importance of resale right. "L'angelus" a painting made between 1857-1959 by french painter François Millet (1814-1875) was resold for an exorbitant sum whereas the artist's family continued to live in poverty. As a reaction to the absurdity of the situation, fellow French artist Jean-Louis Forain made a drawing of two children in tattered clothes, witnessing an auction and exclaiming "A picture of dad!"
The bill, named S-2974/19, is a powerful step towards the adoption of the artist's resale right into Argentine legislation. It needs to be endorsed by both the senate and the house of deputies, before it is sent to the President for consideration, if approved, then it becomes law.
The Argentinian visual artists society, SAVA, who has played an essential role in this advancement, and would later on be indispensable in the redistribution of the Artist resale's right, is counting on the support of the international community in order to give more momentum to this process.
Keep an eye on this website for future developments.