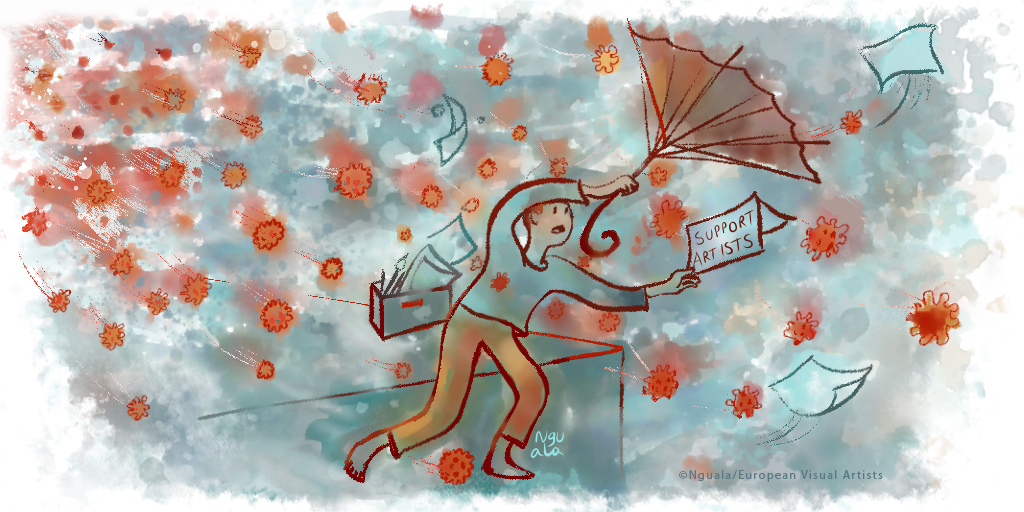 The COVID 19 crisis has hit the visual arts sector extremely hard and will continue to do so for the unforeseeable future. The EY study "Rebuilding Europe: The Cultural and Creative Economy Before and After The COVID-19 Crisis," has made it possible to put figures on this catastrophic situation in order to better understand it.
Visual arts accounted for a 138 billion € turnover in 2019, making it the best performing sector from the Cultural and Creative Industries. Moreover, it provided the highest employment numbers at 1 890 000 jobs throughout Europe. But since then, as estimated in the study, the sector has experienced a loss of 38% in revenues which can be expected to increase as the crisis prolongs further into 2021.
The visual arts sector and its key players; artists, galleries, auction houses, museums etc. are facing similar problems as other sectors, but it remains one of the least funded and supported by governments in several countries, even in these tough times.
Artists, who are mostly freelancers, have lost their employment opportunities such as residencies, exhibitions, art commissions and are left in financial precarity. Moreover, they have been left out from most state aid systems which full time employees are entitled to.  As a result, some are considering switching to other sectors in order to survive, but that will create a great loss in the amount and quality of creative content available to the public. The very creative content which rendered confinement more bearable for many in the last year.
Galleries, essential intermediaries in the emergence of new artists and the entry of their works into the art market, were obliged to shut their doors due to lockdown safety measures. In Europe, only Sweden maintained its galleries open for several months in 2020, but with limited access. Today, many galleries risk shutting down permanently.  For instance in France where, according to the EY study, a third of galleries may never re-open.
Auction houses who play a major role in the sales of artworks, and hence generate a big portion of the resale right royalty paid to artists, were unable to host their big annual fairs which constitute a large percentage of their revenues. Even though some auction houses were able to conserve a part of their activity via online sales, adapting to this different canal to reach buyers is not yet accessible to all auction houses.
Museums, especially small ones, also suffered from the long closure periods. The EY study reports that 1 in 8 museums may never re-open. In countries where re-opening was possible, numbers are still low due to a decrease in tourism.
Overall, the Cultural and creative sectors have lost approximately 31% of their revenue and remain one of the most affected sectors in Europe.
This fragilized sector needs the support and funding of governing bodies to survive these harsh conditions and to reverse the negative impacts in the long run. As they set up their programs to allocate funds to CCIs, these governing bodies should not forget the visual arts sector and most especially the individual artists, who can easily find themselves left out of such schemes.